Those crazy cats over at Civilisation of the Rough never stop partying! Ever! This time they are holding one hell of a bash in support of Play Up Pompey Music where numerous venues across the city are all holding gigs and events to raise money for community shares in Portsmouth FC. This will be a right old knees up that's guaranteed to keep you in high spirits and get your body moving. The guys have massive plan for this event so keep yourself posted over at their Facebook page HERE to see what insanity they are going to release upon us!
"As it's in support of Portsmouth Football Club we thought it would be rather fitting to have a 'Pompey House Legends Vs. Civilisation Of the Rough' kick about. So, we've manage to rope in some of the main protagonists that pioneered and shaped the south coast House scene right back at the start. These fellas were a massive deal in Portsmouth House history and beyond, so we are very excited to be having the mighty PURE SEX join us on the pitch, as well as DJ Warren and Jason 'Leo' Webster. This is to be an epic friendly that will have the supporters dancing around the terraces to a glorious soundtrack of beautiful House music that will take you on a journey back though House history that shaped the scene and right up to the present day.
We will be undertaking a COMPLETE venue transformation in typical COR fashion. The main room will be a nod to the glitz, glamour and ostentatiousness of the 90's Superclub hay-day, while downstairs in the Subway we'll take you back to the grimy underground world of the 80's illegal acid house warehouse rave. You will NEVER have seen this venue look like this before."
Ticket are almost sold out now, but there are a few left in Head Hairdressers, 53 Albert Road (just ask for Josh, he'll sort you out!), or hit up any of the COR DJs. £5 each and ALL profit goes to Play Up Pompey Music to buy community shares in Portsmouth Football Club.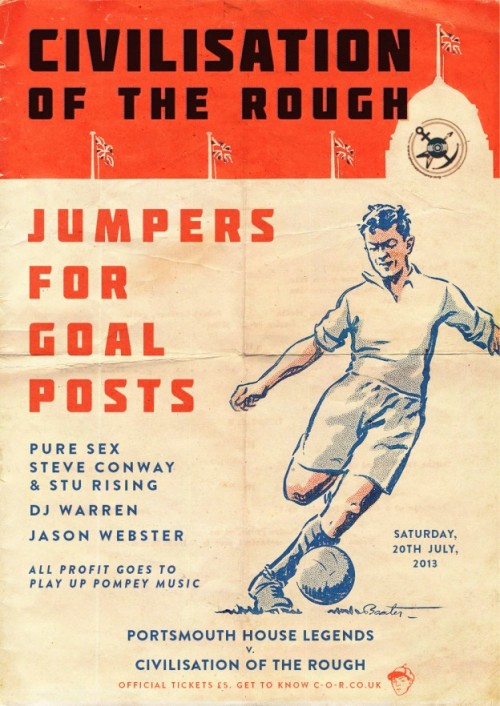 ---