The current exhibition in the main space at Aspex Gallery is Human Made Things and continues in the gallery's current question theme of "Does Making Things Make Use Human?". The exhibition combines the work of UK based artists Sarah Dobai, Andy Holden & Suzanne Moxhay and runs through until the 3rd March 2013. The work, in three different mediums, looks at different ways of transforming elements of the natural world in a way to communicate new ideas.
The work of Sarah Dobai is the film Nettlecombe, which was shot on 16mm film and commissioned by Film London. The film was shot as a single take and shows an orchestrated, but natural, scene with wind no longer acting as a uniform force on an environment. The film draws you in and in some part is a little unsettling and thought provoking as a natural force seemingly takes on a will and motive of it's own.
The Cookham Erratics are a body of six knitted sculptures, which are enlarged replicas of small stones and pebbles collected from the churchyard at Cookham, England, the setting for the celebrated painting The Resurrection, Cookham, 1923-7 by British artist, Stanley Spencer. The pieces created Andy Holden at first, from a wider, audible perspective, create a babble of sound, built up from indistinct dialogue emanating from each of the stones. As you approach each one closer not only does it's spoken narrative take form and draw you in so does it's physical, tactile texture and detailed patterns, constructed in a man-made form from natural shapes and materials.
Suzanne Moxhay's Penumbra is a collection of incredibly detailed photographic scenes of the outer extremities of where nature and man meet. Figuratively like the sea and the beach these locations show a sense of ebb and flow, with a feeling of ongoing movement within the places and spaces neglected by the majority, with nature's attempts to reclaim in distinct relief. The photographs are three dimensional photographic collages which are themselves photographed to give the final image, creating strikingly detailed and atmospheric windows on edges of London where a quiet, slow tug of war of ownership is taking place away from the casual observer.
Overall the three different strands of the exhibition create a cohesive whole, with each touching on different points within the theme and each using different, yet complimentary mediums and is highly recommended. The gallery is open again today (but will be closed on New Year's Eve and New Year's Day) and is, as always, free entry. Find out more about the exhibition, the artists and the pieces of work HERE.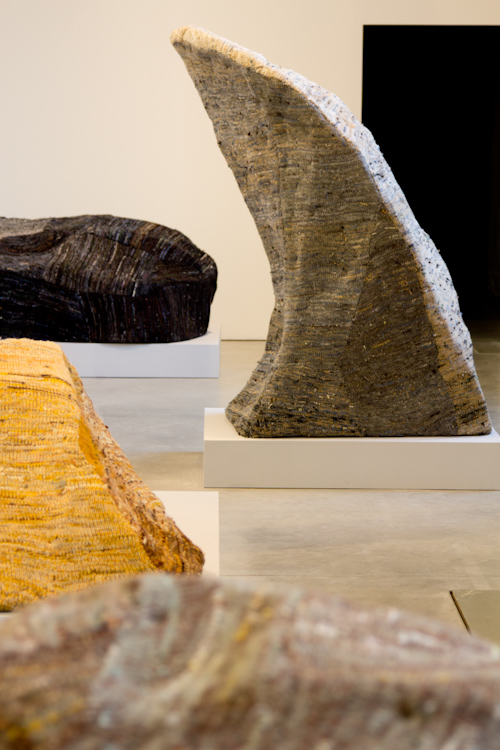 ---