Portsmouth Creative Movement and friends held their affordable art sale at the Bonzo studio on Albert Road over the weekend. Originally planned for Saturday the sale ran on through Sunday and is also open today too. The studio side of Bonzo was home to over ten different artists, photographers and craftpersons showcasing their affordable work on the main walls and on some of the desks. The walls were in essence a mini exhibition but this time with works ranging in price from £100 all the way down to a pocket money £4, ensuring every visitor spent plenty of time taking everything in and most likely going home with a few choice items. All the artists were also available for a chat too about their work, process, cat flea treatments and so on.
Hopefully this event will return sooner rather than later and if you have time you can still nip down there this afternoon and maybe get involved. Props to Bonzo and PCM and all involved in making this event happen.
Photos by Matt Maber. Last photo is my personal haul, all for a smidge over £20.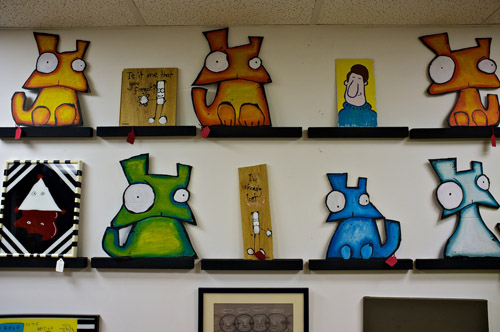 ---