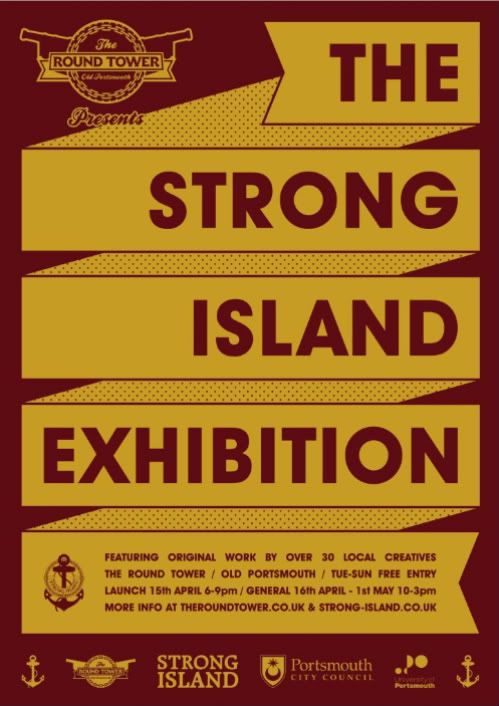 All is finally revealed and we have some rather exciting news for you today. It's our announcement of the 1st Strong Island local creatives exhibition at The Round Tower in Old Portsmouth. The Round Tower and surrounding buildings are currently being turned into a contemporary creative quarter and for the past two years extensive work has been done to clear out the interiors, fix leaks and identify usage.
The Round Tower is now soon to be opened as a continuing gallery space and Strong Island are proud to be involved in the very first exhibition. Over 30 local creatives have been invited to participate and we will soon be revealing the names. You can follow the progress of the gallery space and each individual creative over at www.theroundtower.co.uk. Paul Gonella is currently making a documentary of the progress leading up the exhibition and this will be available to view on the website in due course.
We will be making a pretty huge thing of this in the coming weeks and really hope that you can all make it down to have a look and say hello. Remember it's you the readers, contributors, creatives and locals that make Strong Island what it is and this exhibition is a direct result of this. We appreciate everything that people have done for us to reach this point. Having the first exhibition at The Round Tower is a huge honour for us, and we must say a incredible thank you to Claire Sambrook who has arranged and helped organise the whole thing.
Dates of the exhibition: Launch Night – Friday 15th April from 6pm. Open to the public 16th April – 1st May 10-3pm.
Posters and Logo have been designed by Tristan Savage and the website by Paul Gonella. Thanks to Stephan, Paul and Jack from Badger Press for helping with the screen-printed posters.
---