When My Dog Sighs announces a new project then fans set their alarms for the start of the sale or get their sleeping bag to get in line to be the first into an exhibition. Today he has announced a host of great opportunities for fans, in order to raise in funds for an exciting new project.
Presently that project is still top secret. My Dog Sighs explains, "You know those times when you're with someone special and they want to do a 'thing' for you but they don't want to spoil the surprise and don't want to tell you what it is until it's close so they just say "Trust me"? Well… trust me."
If you'd like to get your hands on a piece of My Dog Sighs art or exclusive merch then there should be something to suit all budgets.
Exclusively created for this fundraiser, he's been working on a special painted eye on a £50 note print. This small affordable signed giclee print is 1 to 1 size but with the added bonus of his beautiful painted eye. My Dog told me, "Ok, so you can't go to the pub and spend it but who accepts a £50 note nowadays?! A straight trade. One of your £50's for one of mine (and a warm fuzzy feeling) Plus you'll get my undying thanks!"
A while ago My Dog Sighs created a gold (effect) version of his Everyman 'hug' enamel pin badge which has never been available for sale. He is releasing just twenty of these in an embossed presentation box. This reward also includes a hand-finished eye sticker (a hand-painted iris!).
You can also have your own hand-painted wooden everyman artwork made with the wording of your choice.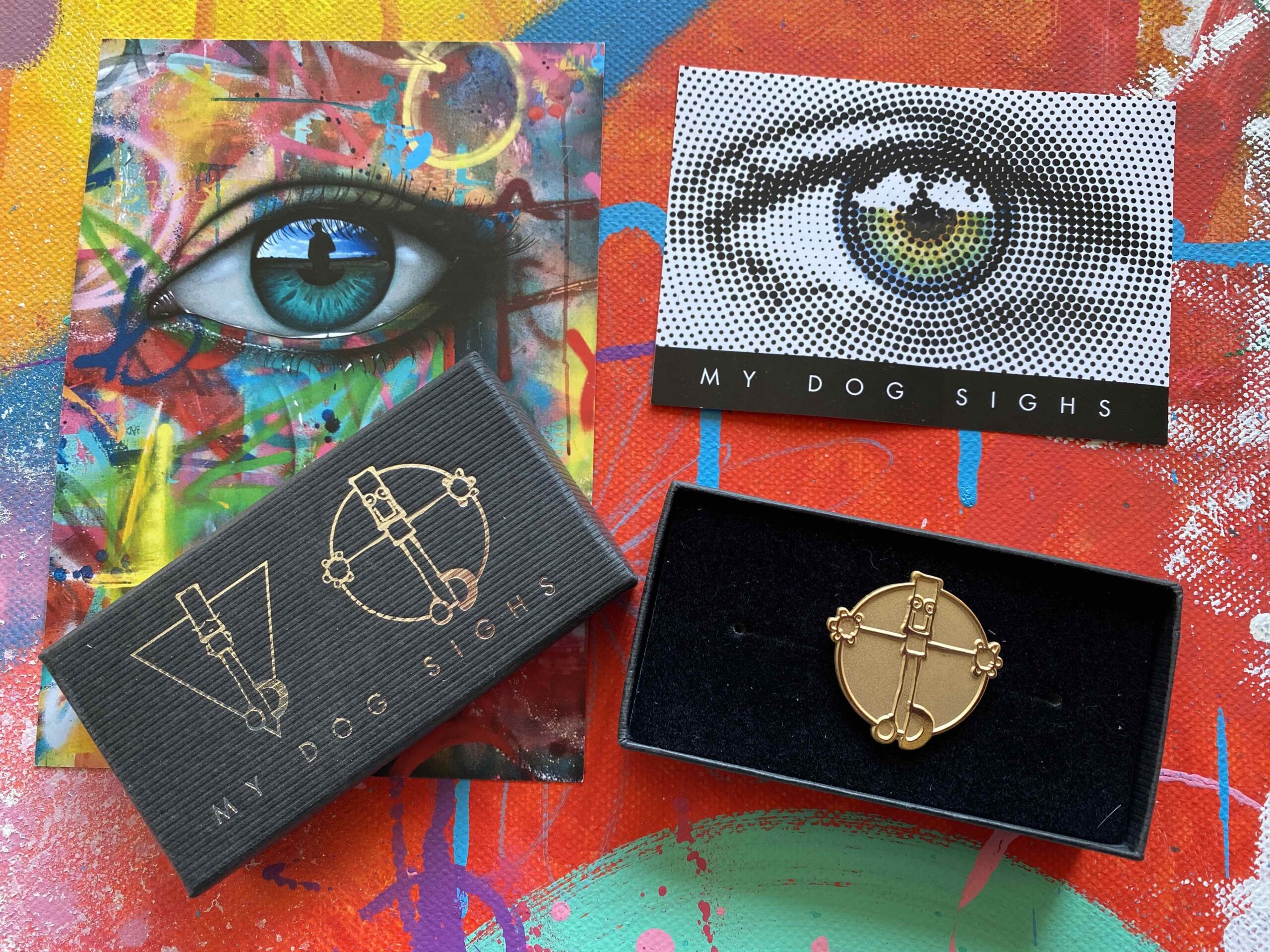 One of the most exciting rewards is your own 10x10ft ground level personalised mural on your garden/office/living room wall. This could be a single reflective eye, cheerful everyman or melancholic QLV character. This offer is only available to those living within 150 miles from Portsmouth, Hampshire only. (Over 150 miles possible but will incur expenses).
To find out more information about other rewards and how you can get involved check the following link: www.crowdfunder.co.uk/my-dog-sighs—ghost.
---