Last Wednesday, I went along to see New York trio Sunflower Bean headline a glitzy evening of talent from across the pond. I'd seen them support Wolf Alice at Southampton's Guildhall the previous year, so I was excited to see them front their own gig.
We made sure to get to Southsea's Wedgewood Rooms early to see the two highly-recommended support acts. First up was LA-born singer songwriter Jesse Jo Stark, who delivered a punchy, sultry set of moody bluesy rock – I loved Wish I Was Dead and her cover of Kim Carnes's Bette Davis Eyes.
Next up, fellow Cali-native Miya Folick introduced us to her soaring vocals and playful yet edgy sound, reminiscent of Fiona Apple or a young Tori Amos. Her debut album's title track Premonitions is a great place for new listeners to start.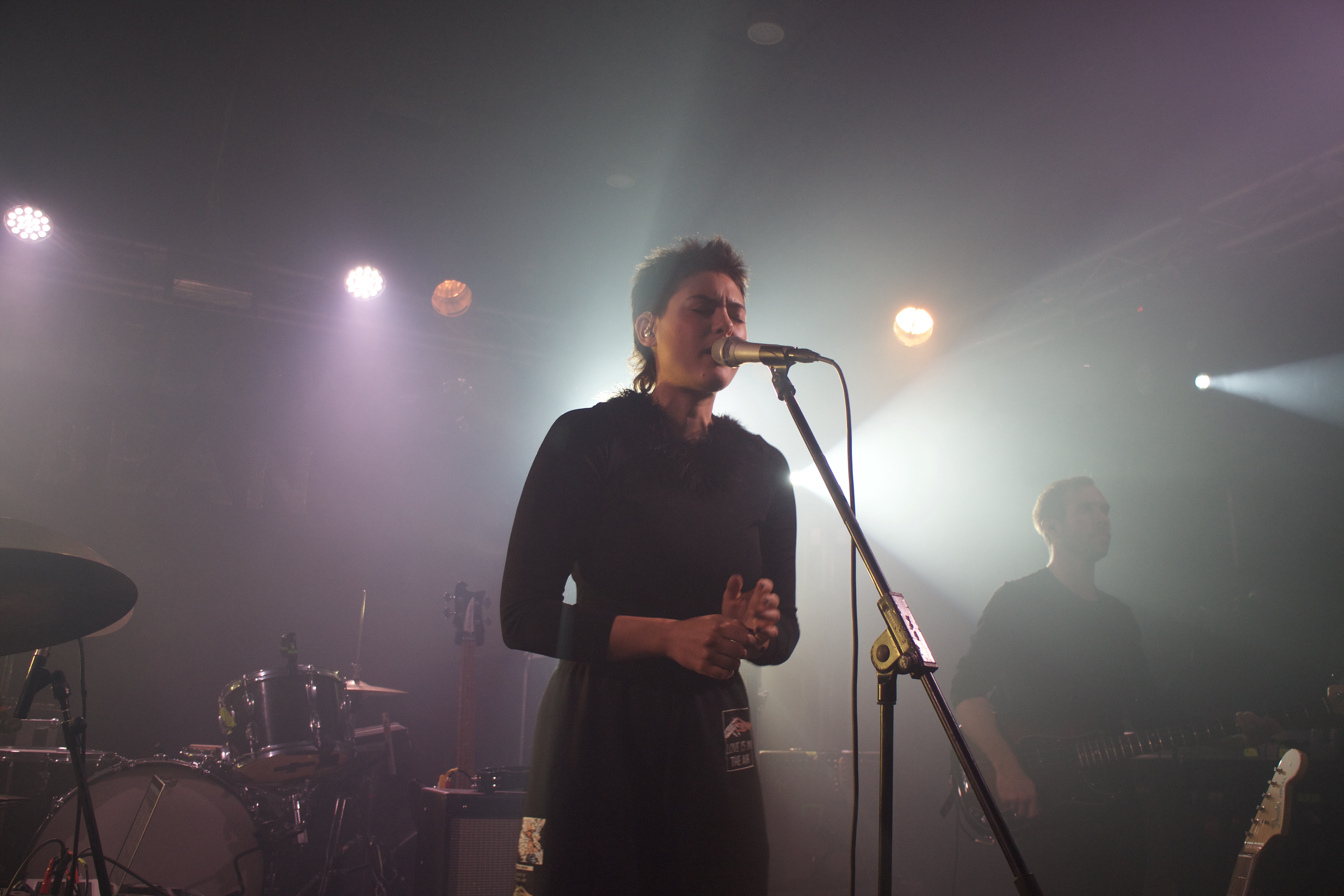 Then, looking as good as they were about to sound (and that's good), Sunflower Bean hit the stage. The band are lead vocalist and bassist, Julia Cumming, vocalist and lead guitarist, Nick Kivlen and drummer, Jacob Faber, plus guest keyboard wizard, Danny Ayala – aka Dr Danny. Owning the limelight in an electric blue sequin dress and gold glitter boots, and silver silk pyjamas respectively, Julia and Nick launched straight into Burn It, the opening track from new album, Twentytwo in Blue. It's signature Bean style; part glam rock, part 60s psychedelia, with a generous helping of melodic harmonies.
Julia's sugary sweet vocals take centre stage on Twentytwo, which showed the band's mellow side, before kicking into a heavier, rockier gear on debut EP track Tame Impala, complete with bass and guitar solo breakdowns.
Crowd suitably hyped, the band took us through a high energy, back to back medley of Sunflower Bean classics – 2013 and Easier Said from first album Human Ceremony, before the bolder, bouncier 80s style Crisis Fest, which Julia got us to help out with on the chorus. Next up was ridiculously catchy new single Come For Me, which saw Julia hop down into the crowd to perform the last chorus moshing along with the delighted crowd. Come For Me comes from upcoming EP King of the Dudes which, with its strutting riffs and crooning vocals, could signify a bit of a gear change towards a more commercial yet still unashamedly psychedelic sound.
After dialling back the tempo to perform the wistful I Was a Fool, the band got us involved again for the slow-burning Only a Moment, getting the crowd to chant the pretty fitting line 'you're exactly where you're supposed to be'. Going out big with the anthemic I Was Home and pounding Wall Watcher, Sunflower Bean ended the gig showing us what they could do, with two huge guitar solos and an epic keyboard performance from Dr Danny. I think 2019 will bring big things for this band, and when they come down this way again, I'll be first in line.
---