We are blessed with a lot of events in Portsmouth but one of the most memorable of the past decade is 2009's Love Albert Road Day. On this day eight years ago was the third event of its kind. It followed the hugely successful event in 2008. Albert Road was closed all the way from Victoria Road South all the way to Festing Grove junctions. The local press speculated that anything from 80,000-100,000 people attended and recalling how difficult it was to get from one end to the other, I can fully believe that figure is quite accurate.
Organised by local traders, Love Albert Road Day aimed to unify the community and raise awareness of what the street has to offer. Along with performances from local musicians, there were street performances, exhibitions, dance, theatre and a selection of cuisines from around the world.
The local press speculated that anything from 80,000-100,000 people attended and recalling how difficult it was to get from one end to the other, I can fully believe that figure is quite accurate.
Early on in the day Bored of Southsea took over the short piece of road opposite their shop for a Game of Skate. If you don't know what that is the rules are relatively straightforward. One player sets a trick by doing a particular skateboarding trick of their choice. If the trick is not landed, another player attempts to set a trick. Once a trick has been set (landed), the other player(s) must respond by doing the same trick on their first try. If they make it the game continues; if they miss it, they get a letter, starting with S, and so on until they have missed five tricks, spelling SKATE, and they are out or the game is over. The last man standing is declared the winner.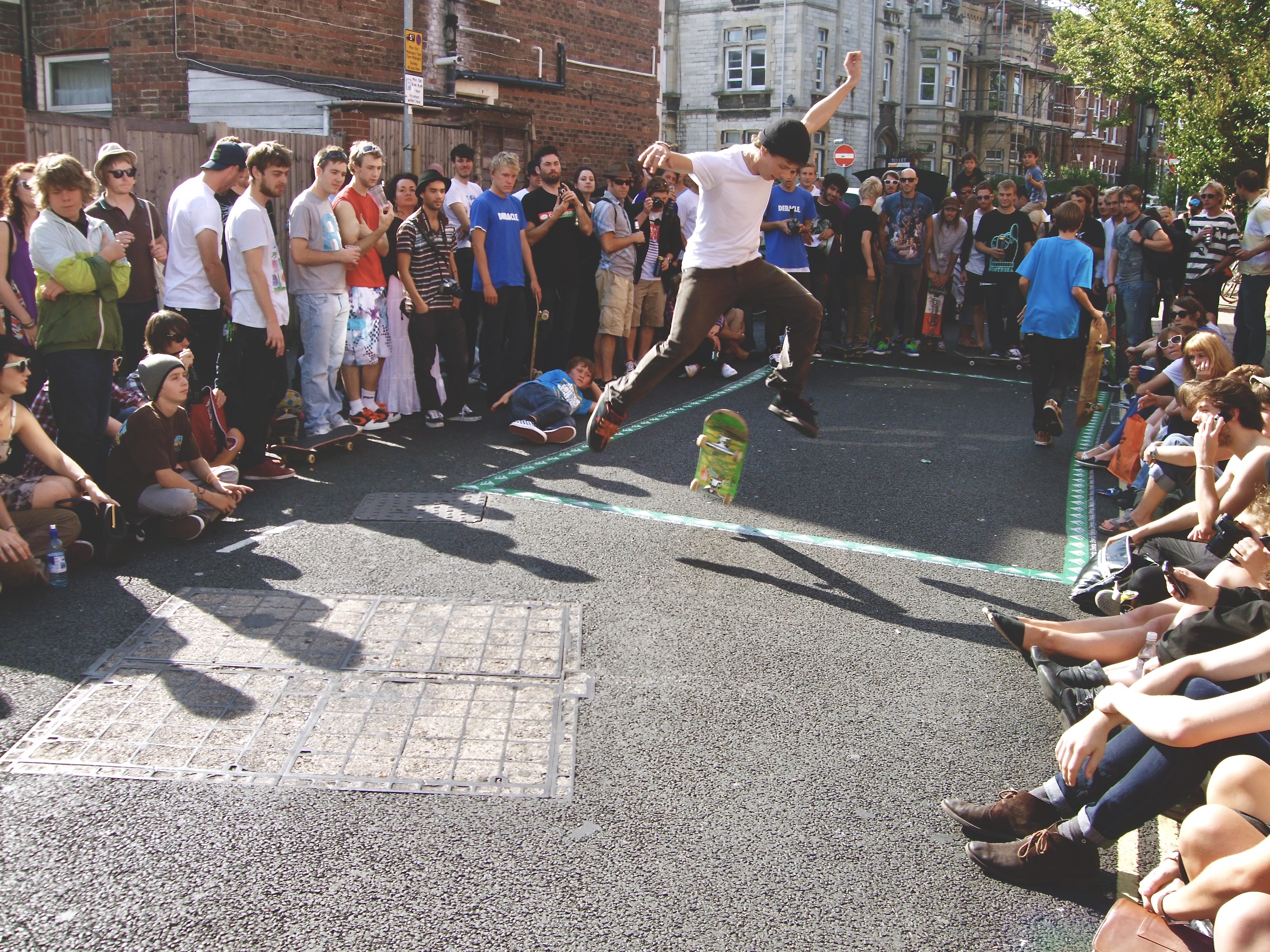 The restaurants of Albert Road brought their kitchens out to the street and gave visitors a chance to sample a range of cuisines from around the world. The Bangkok restaurant brought along some traditional Thai dancers who performed classical dances including Khon, Lakhon and Fawn Thai. There were also Indian, Chinese, Polish and Moroccan dishes were all available to try and buy on the day.
Unless I am getting confused with 2008, I am pretty sure that the Kingfisher fish and chip shop hosted another secret party in their garden again?
"The Love Albert Road event has always been about the street and the people who make up the street – its not about headline acts, it's about having fun." Ian Partmiter of Parmiters Antiques.
Five artists were given access to the disused French Bakery at 190 Albert Road (this is the building with the My Dog Sighs mural). Inside was a collection of work following a city theme, from the current economic temperature explored in sculpture and wall hangings, to video installation based on city routine as well as light hearted photography of Southsea culture.
There were bands performing on six stages along the street and at the Wedgewood Rooms. The two largest stages were at opposite ends of the festival, one by The Kings Theatre and the other by The Festing pub. Bands also performed above Head Hairdressers, reminiscent of the Beatles 1969 Savile Row rooftop performance. A raised platform might have helped to fully see the bands but generally you could see what was going on.
I vividly remember while making my way along Albert Road there was a sharp change in atmosphere by the crossroads of Lawrence Road and Waverley Road. There was some kind of happy hardcore rave going on. This wasn't really befitting of the family atmosphere that the organisers were aiming for so I was a little baffled about what was going on as it all felt a little out of place. I later found out that the DJ playing there had deceived organisers and was booked with the intention of providing something for everyone.
The place to be for the after party was Little Johnny Russell's, they hosted DJ Derek for one of his legendary DJ reggae sets. I have so many good memories of LJR's, it's going to be a real shame to see it shut next month, but that is a whole other conversation for another day.
The event finished around 4 pm and as the crowds dispersed Albert Road looked an absolute tip, with beer cans, plastic cups and left over food all over the floor. I don't remember if there weren't enough bins around or whether everybody was just being lazy and too idle to walk to the nearest bin. Massive credit to the local council who organised a cleanup operation with such precision that the following day you wouldn't have known that anything had been going on.
The day involved a lot of drinking in the sunshine, so for me, much of what happened is a bit of a blur! My overriding memories of the event are positive thanks to having a great time with good friends. It was a real shame not to see the event return in 2010 as it was axed over the rising costs of policing and putting on the event without private sponsorship.
With the chances of the event coming back being somewhere between slim and none, the spirit of the event still lives on at Victorious Festival and the Castle Road events. As I said, my memories are a little hazy so we'd love to hear yours! Do you wish that it would be brought back or were you glad to see the back of it?
Check below for some of Paul's photos from the day, tag us in to any you might have on Twitter, Instagram & Facebook.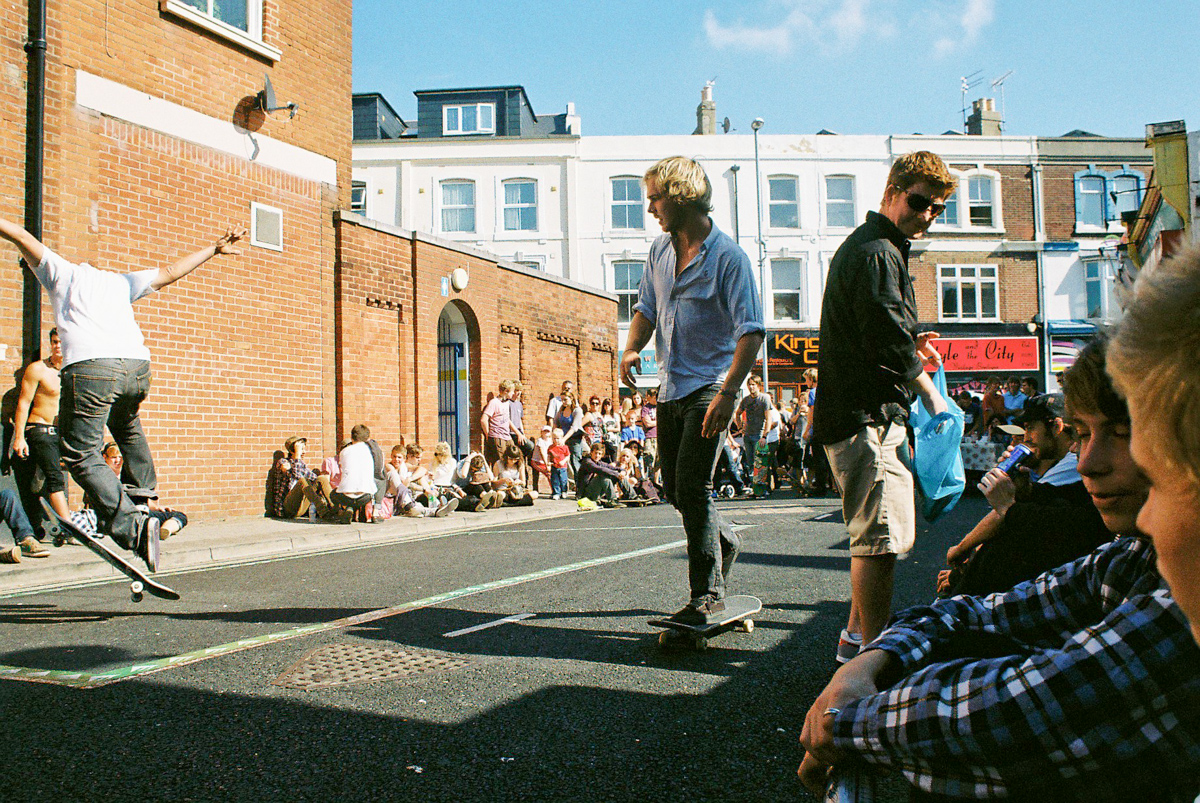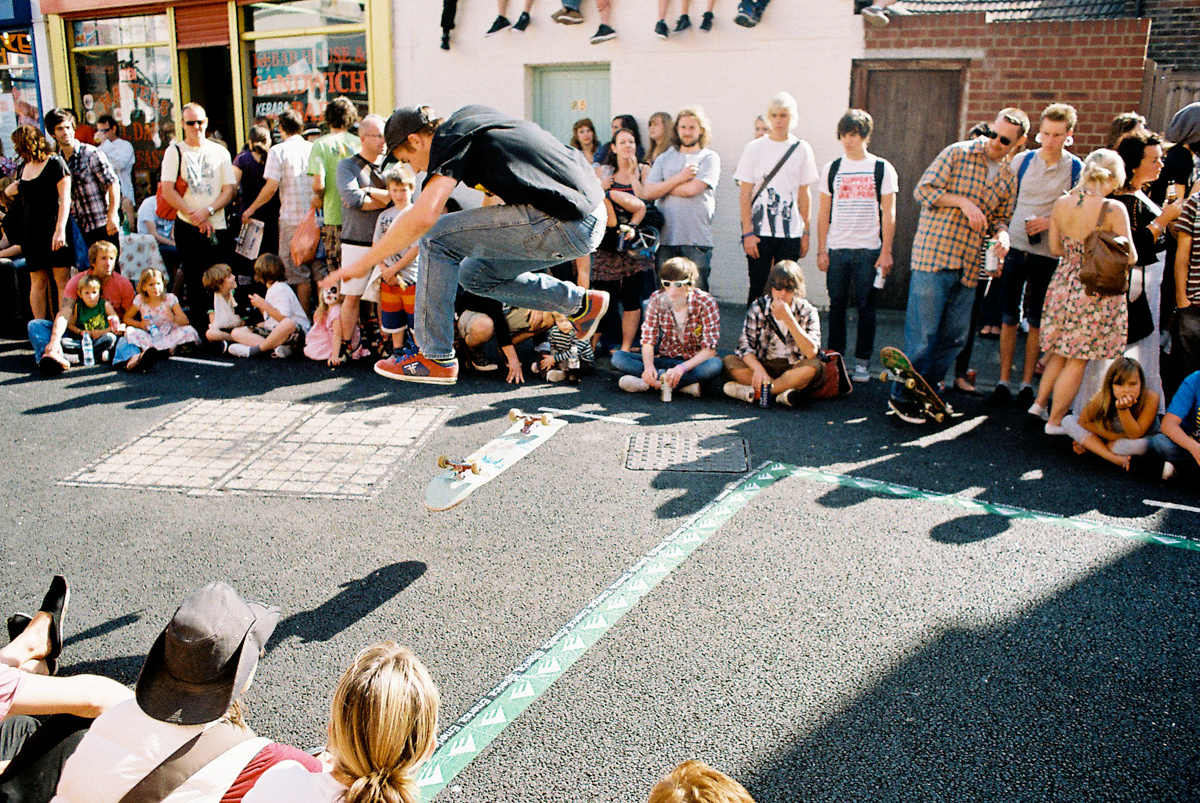 ---