If you haven't visited the No. 6 Cinema before then we highly recommend it, it is a mix of thoughtful art house cinema, vintage Hollywood classics and new blockbusters all within the historic blockhouse in the dockyard.
Here are a selection of movies we recommend you check out. Be sure to check their website for full list of all the movies this being shown www.no6cinema.co.uk.
2001: A Space Odyssey (U) – Saturday 6th at 7pm
Kubrick's complete mastery as a director is evident in every frame and every scene of this film. His almost sadistically precise exposition of story and character creates a steady accretion of perplexed tension in the viewer. 2001: A SPACE ODYSSEY was a landmark film upon its initial release but it received mixed and often very misguided reviews, a fate that would befall EYES WIDE SHUT many years later. The film's true meaning remains as opaque as the famous black monolith that appears inexplicably throughout the film.
Leviathan (15) – Thursday 11th at 7pm
This powerful drama from Cannes winner Andrey Zvyagintsev begins in a dilapidated port on the Barents Sea, where Nikolai, a hard-drinking mechanic, his long-suffering wife and truculent son are under threat of losing their home, which the mayor wants to bulldoze and replace with a fancy dacha. Hope emerges when a handsome ex-army pal turned lawyer arrives to aid their cause and in the process expose the mayor's extensive corruption. Things take several unexpected turns, but this being a Zvyagintsev film, the family's struggle against a poisoned bureaucracy ultimately testifies to the power of perseverance and determination.
Nightcrawler (15) – Friday 12th at 7pm
Drifter and small-time crook Lou Bloom (Jake Gyllenhaal) stumbles into the seedy world of freelance journalism in LA, where he goes armed with a camera and an increasingly perverse taste for car wrecks and shoot-outs. His work soon catches the eye of veteran TV journalist Nina, although his driver Rick is more troubled. As rival newshound Bill Paxton exhorts him to sensationalise his reporting on the basis that 'if it bleeds, it leads,' Bloom inevitably crosses the line, and instead of merely covering the story, he becomes it. Dan Gilroy makes a stunning directorial debut, combining tremendous action footage with a morally driven crime drama.
Fury (15) – Saturday 13th at 7pm
Brad Pitt's second WW2 film is a far more visceral, indeed credible exercise than Tarantino's INGLOURIOUS BASTERDS and as Wardaddy. It's April, 1945. As the Allies make their final push in the European Theatre, a battle-hardened army sergeant named Wardaddy commands a Sherman tank and her five-man crew on a deadly mission behind enemy lines. Out-numbered, out-gunned, and with a rookie soldier thrust into their platoon, Wardaddy and his men face overwhelming odds in their heroic attempts. Director Ayer makes it clear this isn't about the glory of victory, for as Wardaddy says, "You think it can't get any worse, and then it does.
It's a Wonderful Life (U) – Saturday 20th at 7pm
Frank Capra's It's a Wonderful Life is a gloriously sentimental testament to homely small-town moral values. Masterfully crafted, the film opens with angels discussing George Bailey (James Stewart), a man so beset with problems that he contemplates a Christmas-time suicide. As George prepares to jump from a bridge his guardian angel Clarence Oddbody intervenes and shows him how badly Bedford Falls would have turned out without his good deeds. Filled with a renewed joy of life George returns to his family for Christmas.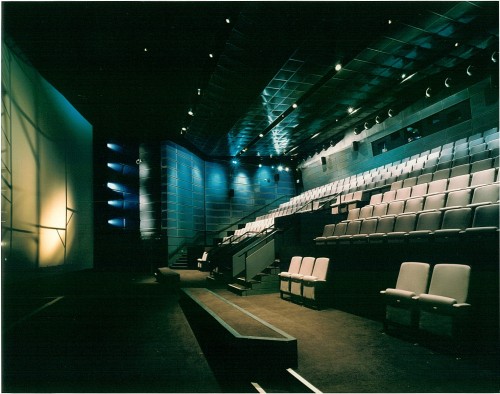 ---