Thursday evening at The WedgeWood Rooms sees 'Spring Into Action' – A Variety Fundraiser for 'Pancreatic Cancer Action' in memory of 24 year old Kerry Harvey, an ex-Portsmouth Uni Student who also worked at The Bridge Tavern, Old Portsmouth. Kerry was diagnosed at the young age of 23 years old, and after only 8 months of suffering from the disease, she lost her battle, aged just 24. Kerry, despite being so unwell, fought tirelessly to campaign for more awareness, earlier diagnosis & better funding for the cancer.
The organisers behind Spring in to Action could not help but be inspired by Kerry's bravery and contacted her straight away to ask if she would allow them to put on a benefit concert, dedicated to her. Kerry herself chose the charity that all the proceeds will go to, and she knew or liked most of the acts that will perform.
The acts include Portsmouth's favourite 1940's trio The Three Belles, The Frank & Dean Show, Gloria Miller as Supremely Diana Ross, Jerry Williams, Burlesque from Scarlett Seductrice & Vanessa VaVoom, Samba Reggae Drummers – Batala Portsmouth, Magician Stephen Simmons & dance from 'Swing4All' Lindy Hoppers & N'Rapture Street Dance. All performers are giving up their time for nothing, so all proceeds are able to go straight to the 'Pancreatic Cancer Action' charity. There will also be a raffle on the night raising money, with prizes from many local individuals and businesses.
Tickets are available from The Wedgewood Rooms & The King Street Tavern, Southsea.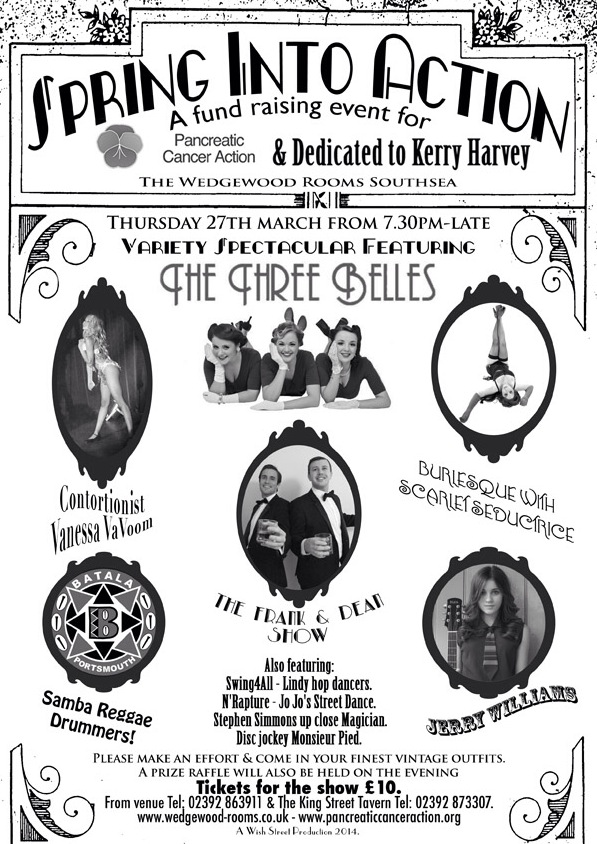 ---