The eagle eyed of you may have noticed the building work down at the west end of Albert Road opposite Hedonic! Lot's of sanding, hammering and painting has been taking place to soon introduce us to Southsea's latest local offering, AMO SOLO.
Floorboards sanded and brickwork exposed, the developments have been taking place quite rapidly and within the next fortnight, the biggest changes will take place, where all the electrical and building work will be finalised, the furniture will go in and AMO SOLO will have its real identity. Once open, it's sure to be a place people will go for style, quality, originality and a unique service. 
Roma-May got in contact and gave us a little insight in to the background behind their exciting new venture:
"The background of the family differs massively. Our mum is the founder of this business idea and financial support for this project, her role in it all is the big cheese, and she wants a business that would become a legacy to our family. She has over a decade in managerial experience and thats her role in it, as well as creative direction for the style and content of AMO SOLO. Curt has his catering background and has worked as a head chef, as well as having massive attention to detail and being a perfectionist, which guarantees high quality on whatever he produces or sources. My sister has worked in a lot of various places and can be applied and thrown into any situation, which means any given task she will get done, and I am a graphic design student, with a background in art and design. So all in all, the combination of our skills has ultimately enabled us to create this new project without any external help, keeping the concept of it being a "family business" very prominent.
The deli/cafe/bar concept is something that has taken its shape through years and years of us all travelling to italy. As kids, our Dad lived out there for the last 15 years and we've spent much time as a family in Northern Tuscany, and the place has a very close connection to our hearts, which is probably where the idea of the tuscan/rustic deli comes from. To be able to stroll into any given cafe or bar in italy and be able to pick up a coffee and a sandwich or a drink at any time of day is something that always seemed limited here at home, so we're trying to bring that ability to get quality products at any time. The idea of the actual interior of the building is that it should create an ambience and not an atmosphere, so together we have worked to choose what we think will work, sourced the materials ourselves, and haven't been afraid to get our hands dirty."
I'm very excited to know there will soon be a quality deli joint that I can visit of a Saturday morning when I like to spend my time off work taking in good food and good company. With various establishments over the years never really cutting it, this is very exciting and will certainly have the eyes and ears of the Albert Road Traders as they continue to strive for a delicious breakfast and lunch menu on their doorstep.
Can't wait to pop in when AMO SOLO is finally open. For now you can keep up to date on everything over at their Facebook HERE and we'll be back with an opening article as and when…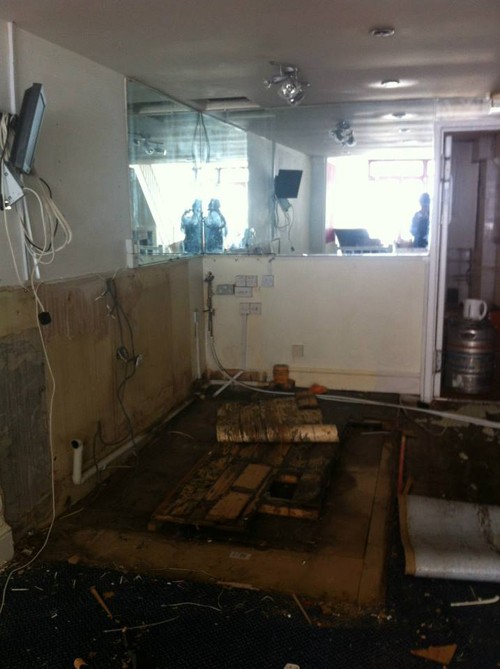 ---