I first became aware of Julie Byrne at the end of last year when she was featured in The Guardian's top fifty albums of 2017 with Not Even Happiness. This was her second studio album and followed her 2014 release Rooms With Walls and Windows. Julie was in Brighton to conclude her brief UK tour before heading over to Portugal. Instead of the traditional Brighton venues like Komedia or Concorde 2, this show was held in St George's Church.
I was accompanied by my friend and local blogger Alanna, the Eco Wild Child. After a short road trip, we parked up and made our way into the venue. We arrived at the venue just as Jim Ghedi began his set. After grabbing a pint of Harvey's Olympia Golden Ale we made our way to a couple of empty seats near the front. Great care was needed when moving around the venue during the performances, As it is an old church there are plenty of creaky floorboards and large doors which if not closed gently the sound would reverberate for all to hear.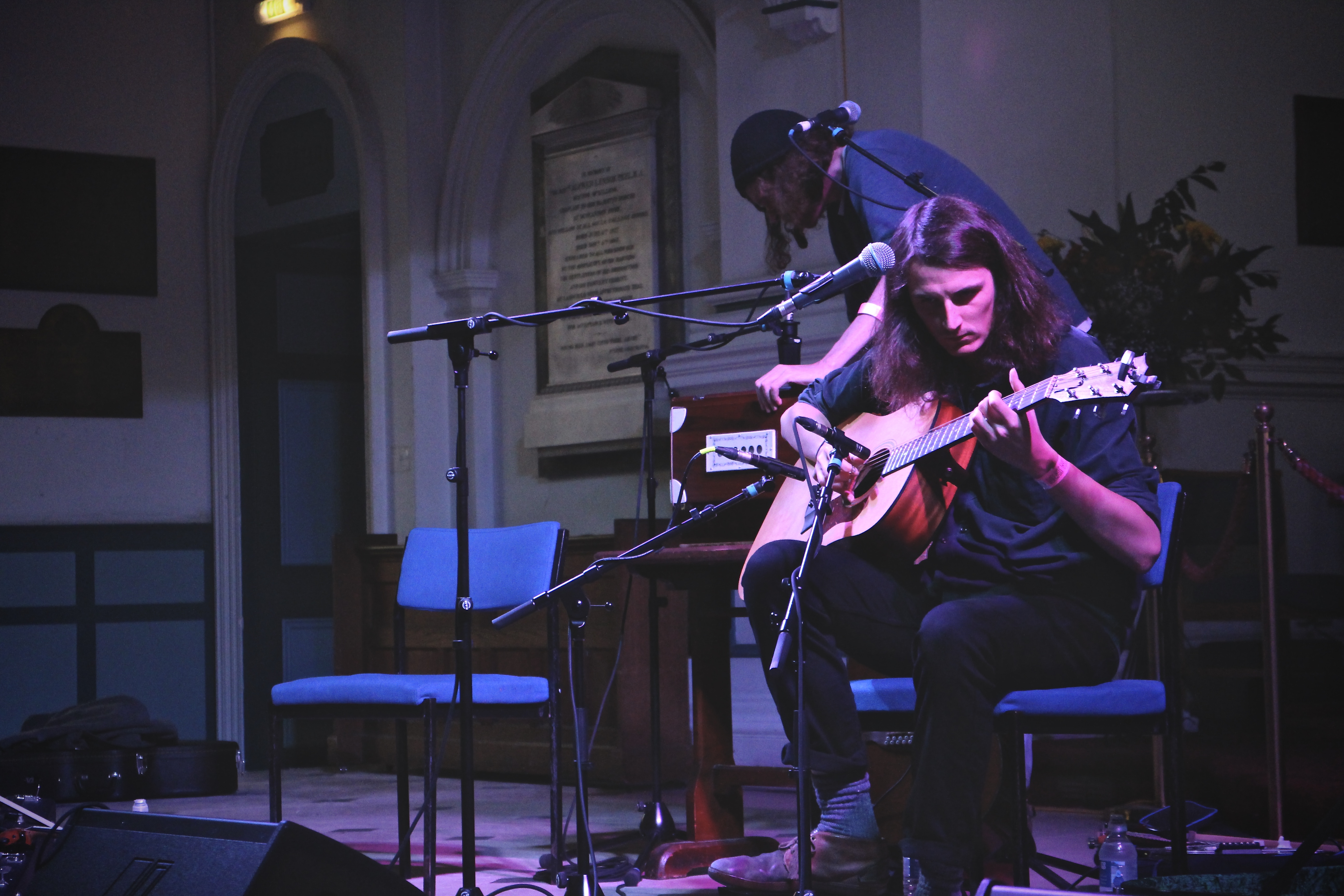 Jim hails from Sheffield and is signed to the Yorkshire based label Basin Rock Recordings. The small label also boasts the night's main attraction Julie Byrne and New Zealand's Nadia Reid. Although he does sing much of the set featured mainly instrumental tracks that reminded me of Explosions in the Sky, just without the big finishes.
The penultimate track of the set, 'Fortingall Yew,' was inspired by the oldest living tree in the UK which is found near Perth in Scotland. Each track of his latest album, A Hymn for Ancient Land, is named after places inspired by his travels to some of the remotest parts of the United Kingdom. To finish off Jim moves to the back of the stage to play the Harmonium for 'Banks of Mulroy Bay.' A song which was taught to him by his grandfather and is an old travelling song about leaving home and venturing into the unknown to find work.
Next up was Brigid Mae Power. In the late 2000s, she lived in New York, trapped in an abusive relationship, which she recently detailed in support of the #MeToo movement. In 2013, after finding her way back to Ireland, she quit her job to focus on a career in music. This was a wise decision as she is now going from strength to strength and earlier this year she released her second studio album, The Two Worlds.
Alanna and I decided to watch this set from the third tier of the church. This provided us with a fantastic view of the stage and its gorgeous windows just behind. The stand out track of the set is 'I'm Grateful' which is taken from her aforementioned second album.
Julie lends a hand to set up the stage for her performance by getting the instruments ready and decorating the stage with candles. Which seemed quite apt being in a church. A few minutes before her set I bump into Julie, I'll admit that my chat wasn't great but she was very sweet and polite despite having much more important things to think about.
As dusk creeps in, Julie begins her set with 'Sleepwalker.' Afterwards she is joined on stage by her band on violin and lap synth. Julie then explains how during her last trip to Brighton they hadn't actually arranged anywhere to stay overnight and how a group of students stepped in to save the day by offering them a floor to stay on. Next up was 'Follow My Voice,' it was after this track that I stopped taking photos and returned to my seat. Being a seated show I was very aware that even though I was sitting on the floor to take photos it was still potentially off-putting for those sat in the front row.
The set contains mainly tracks from Not Even Happiness although midway through the set we are treated to 'Prism Song' which was taken from Rooms With Walls and Windows and a cover of Jackson Browne's 'These Days.' I was hoping that we might have heard a new track or two but that wasn't to be. After an instrumental interlude Julie and her band that segues into the penultimate track on her latest album, 'Sea As It Glides.' Fortunately Julie wasn't quite finished yet, the lights dimmed and plunged the whole crowd into darkness as the full focus drawn on Julie. What followed was one an emotional and quite moving rendition of 'I Live Now As A Singer.'
Once the inevitable encore is complete Julie and her band received a richly deserved standing ovation from the crowd. It was a privilege to be part of the crowd that night.
---