Don't be confused by the name, Jordan Allen is not a one-man team, the band actually consists of Jordan and Danny Quin, Nathan Howard and Kieran Loughran. The band began their first ever headline UK tour in Brighton last night. The tour also takes in Manchester, Liverpool, Bristol, London and The Joiners in Southampton on December 13th. I was fortunate enough to catch up with lead guitarist Danny Quinn before the band set off on tour.
Stuart: Could you tell me about how you initially got involved with music and who influenced you most?
Danny: All of my family really love going to gigs and I remember one year we went to see Stereophonics and I said that's what I want to do. My brother, dad and uncle dabble on various different instruments and we always have a family jam when we are all together. But I started taking it seriously as an acoustic artist and met Jordan on the circuit.
Can you describe how you felt whilst after you'd released your first single?
The obvious answer would be excited or nervous really. But for me, I didn't really know what to think on our first single. I'd never put anything out and if even 1 person liked it that would have been a success. Obviously now I realise that people are excited to hear our stuff and that drives us even more.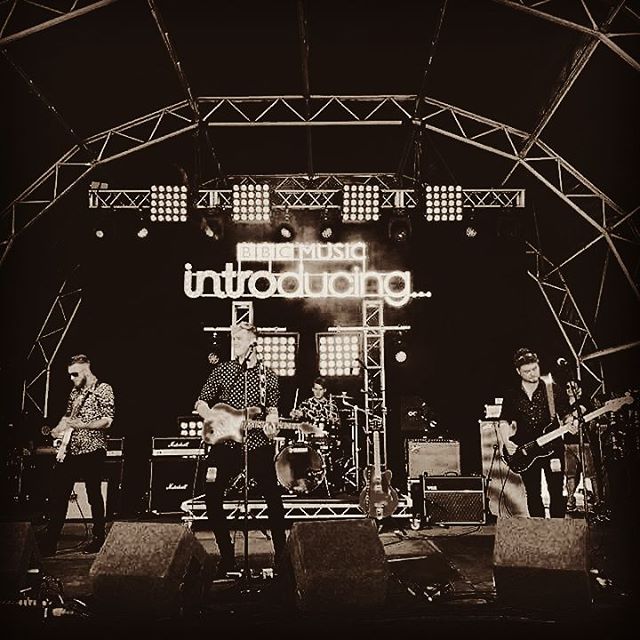 For those who are new to your music which three tracks would you encourage them to check out first and why?
The first track would have to be 'Helter Skelter'. Simply because this was our first single with the current band set up. And a piece of work we are all very proud of. Next I'd say '110 Ways To Make Things Better' because this could be the that means the most to us. It was written during the time Jordan's father was really ill who we lost just before the release of the track. And all proceeds we donated to The Brain Tumour Charity. And finally, I'll have to say our new single 'R.O.S.I.E'. This is I think is a different side to our music and we feel our current fans have a real love for life. So if you were to be checking us out live also this would be one to learn the words for.
How do you feel when you share your music for the first time? Do you prefer to share new music live where you can see the crowd's reaction first hand or online perhaps?
We always try out any new stuff at shows. I feel that's the best way to gauge things. There have been times where I've had to improvise solos live just because we are so excited to let people hear what we have in the pipeline.
We always try out any new stuff at shows. I feel that's the best way to gauge things. There have been times where I've had to improvise solos live just because we are so excited to let people hear what we have in the pipeline.
If I were to get hold of your iPod right now, what four artists/songs would I see on your recently played list and what is it about those artists that appeal to you?
If you asked any of us in the band this each answer would be totally different. We have such an eclectic taste in music. Well, right now I'm well into Royal Bloods new album so that'd be up there. Next you'd probably find some other up and coming artists like SHEAFS and The Ravellas. Both bands are mates of ours and their music is constantly blasting on my iPod. Next would probably Newton Faulkner. My initial love music came from acoustic music and this guy, in my opinion, is one of the best. And finally it'd probably be Equality Street from David Brent's 'Life on the road' album. The band and I are massive fans of this album and when I'm the road ourselves this gets blasted!
While on tour do you get very much time to explore the towns and cities that you are playing?
This always depends on what date is next and where we were before. But for sure we always try and get out and have a look around. Myself and Jordan often go on jogs around cities when we get a chance.
What can those fortunate enough to have a ticket expect from your live show?
To lose their voices, have sore hands and an incredibly awesome rock show. We just generally aim to make sure everyone has a good time and we seem to deliver consistently.
What does 2018 have in store for you?
We are working on a few tunes right now and will be playing some of these live on tour. But hopefully you'll be seeing and hearing a lot more of us.
If you like what you hear then there are still a limited number of tickets available for their show at the Joiners in Southampton. Tickets are available for £6.60 from www.seetickets.com/event/jordan-allen/the-joiners/1149938.
---