THE PHASED RE-OPENING OF THE PIER BEGINS THIS MONTH!
The South Parade Pier owners have today announced a number of interesting and exciting developments about a phased re-opening of parts of the pier which is due to take place over the coming months. 
The Grade-II listed pier was closed in 2012 after being deemed too dangerous for the public to set foot on and that it was at risk of collapsing. However, since its purchase in January 2015 by the South Parade Pier Ltd was completed there has been ongoing work aimed at making the structure safe. The refurbishment of the pier is still ongoing but there have been massive improvements and from later this month parts of the pier will re-open to the public again.
From Friday 14th April the amusement arcade will open its doors to the public between 10 am to 9 pm – 7 days a week. Please show your support for the opening of the family arcade as its success will help to ensure the long-term survival of the pier. 
The owners have confirmed today that Deep Blue Restaurants will be run the fish and chip shop on the side of the Pier as well as a full service 275 seat restaurant in what was previously the Albert Tavern Bar. The takeaway is aiming to be open for next month and the full restaurant is to open in August.
Also opening this summer will be the Pier Side Cafe, who will offer traditional seaside favourites along with more contemporary street food. Operating on the west side of the newly transformed pier will be The High Tide Kitchen Company. We've been told to expect fresh and affordable food with a range of comfort foods and healthy options. All of which will be available to enjoy in their outdoor seating area with great views of the Solent.
As a big lover of The Boat Deck and their sustainably sourced fish and chips, I hope that the new restaurants that will be taking over offer genuinely good food that compliments the fantastic setting.
At this point, there is no date on when fishing will be permitted to return but we have been assured that it will be as soon as possible. There is still a little way to go before the owners can complete the full opening of the pier but today's announcement is encouraging and something to be excited about. Getting to this point has been and enormous task and years in the making.
To stay up to date with future announcements then head over to Facebook and follow the South Parade Pier Supporters Group.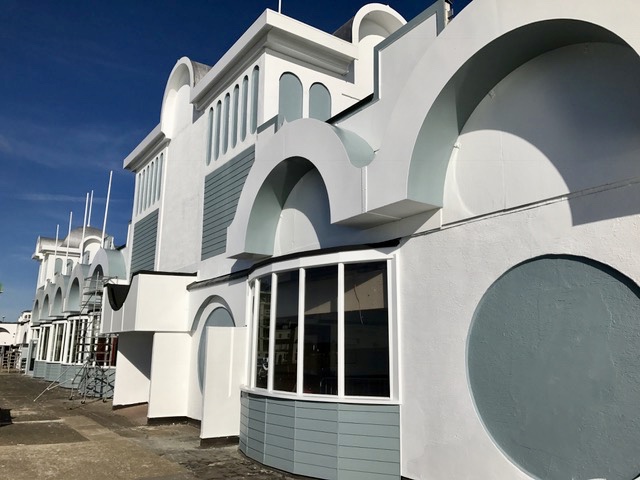 ---