THE 'GROW AN EXHIBITION' PROJECT CULMINATES IN FINAL SHOW OF WORK
From the initial concept back in 2014, from the first seeds, as it were, we've keenly followed Art Space Portsmouth artist Adrian Mundy's 'Grow an Exhibition' project. Adrian's practice was primarily based on very precise, geometric painting: "I could control everything about it, I have a pile of pre-made canvases that I can't use because they have one or more sides that curve slightly, no good for designs based on rigid grids". This new project though would go off in a new direction and had its roots (sorry) some years back when Adrian worked on bringing the Art Space garden back to life with new plants & trees.
"I hadn't really seen it as an artistic project, thinking it more of turning an unused space into a little oasis, but still just a garden. This got me thinking how I could use the Garden for my artistic practice. Then at the end of last year it came to me… I would use the space to 'Grow An Exhibition'."
The Grow An Exhibition project had the core idea to grow plants that would then be harvested, processed and turned into artworks. The first year of the project went well with straight lines of flax were sown in regularly spaced drills. Weeds were quickly pulled out as soon as they grew, apart from a few poppies to leave for the bees. The plants grew big and strong, maturing into sturdy golden stems. These were harvested, dried and processed.
This got me thinking how I could use the Garden for my artistic practice
…Each cob contained a unique and vibrant spectrum…
As well as plants Adrian also grew Glass Gem corn, a multi-coloured variety from the Americas. These were planted in a nice regular spaced block and they grew big and strong. "Harvesting the cobs was exciting as the husks were gently pulled back to reveal a multitude of colours. Each cob contained a unique and vibrant spectrum".
In 2015 Adrian was awarded Arts Council England funding which meant that he could go forward with the project and work towards the final artwork and exhibitions. More straight rows of flax were sown and more had been planted at Tuppenny Barn out by Chichester Harbour in Southbourne. All was looking good for another perfect crop to increase the stock of naturally grown art supplies.
The flax was harvested and drying in the field and the corn was growing big but the weather that year turned and it rained and the sun only made brief appearances. As a consequence the golden flax turned a dull grey while most of the corn barely made it to maturity. "Rodents added to my despair as they munched their way through the few cobs that had managed to ripen. I harvested as much as possible and tried to dry it in my studio but some still rotted. I was devastated".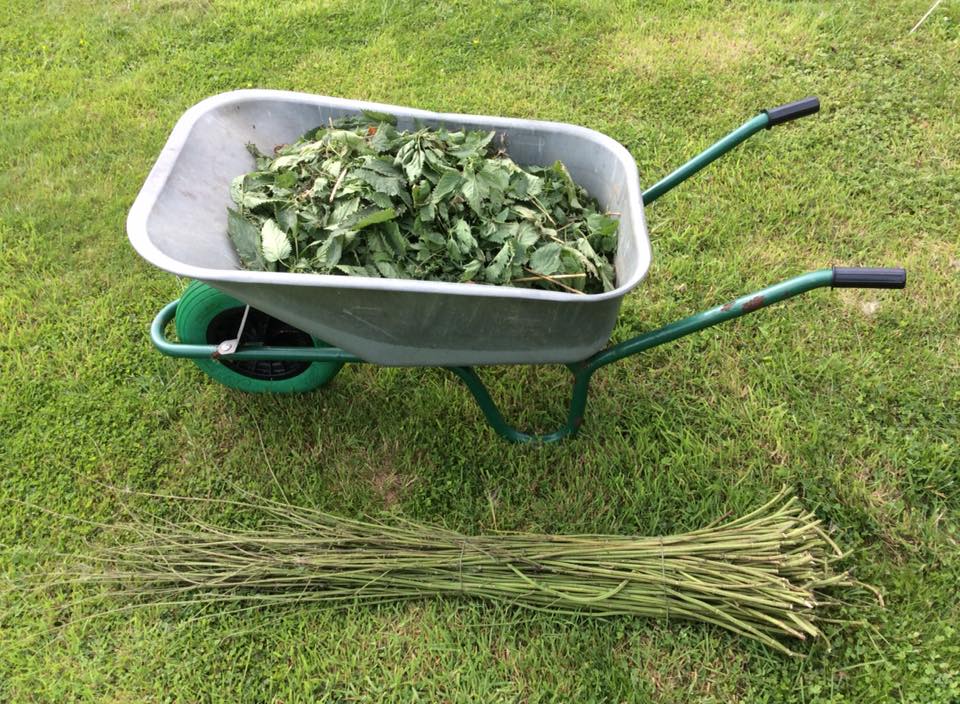 Harvesting Crop at Tuppenny Barn
Adrian working with the harvested corn
Working on the centrepiece
Then the idea for a theme and title for the exhibitions slowly came to the surface. Natural Imperfections. Or Natural Imperfections. This title for the exhibition comes partly from the way the plants 'do their own thing' and grow how they want to, but also represents Adrian's desire for perfection in his work, something which is impossible when working with plants & handmade paper. "Celebrate the imperfect and work with it. I collected all my crops in my studio so I knew what I was working with, but that only ended up turning my organised space into looking more like a barn."
After a documentary exhibition at Art Space Portsmouth in February 2016 it was on to making the work for the final exhibitions at Tuppenny Barn and Aspex Gallery. 
The final exhibition at Aspex Gallery in Portsmouth opens with an Artist Preview this evening (15th June) and runs until the 14th August, and features as part of Portsmouth Festivities. The centrepiece of the exhibition is a five metre plank purchased from the Southampton Wood Recycling Project, held up on legs with flax stems 'growing' through it. The centrepiece is being re-worked to fit the space and new pieces made to go alongside those shown at Tuppenny Barn.
And the future, now that this almost three year long project has reached its conclusion? "I got the most enjoyment from working with the sculptural pieces and I'm just taking it to the next step by making Land Art in the environment, à la Andy Goldsworthy. I already have connections with a couple of venues allowing me to experiment with their land. Watch this space."
To keep up-to-date with the project you can sign up to the mailing list and follow Grow An Exhibition on the following links:
…I got the most enjoyment from working with the sculptural pieces and I'm just taking it to the next step by making Land Art in the environment…
---