On a recent trip to the No 6 Cinema in Portsmouth's Historic Dockyard I noticed some fantastic illustrations featuring some of my favourite movies in the foyer. The posters featured movies such as Kes, Jurassic Park, Labyrinth, The Big Lebowski and the Goonies.
The posters were created by Matthew Anstee aka Tea & Pencils. Matthew's on-going collection entitled 'Cinefilms' was first exhibited his hometown of Winchester but has since been featured in various independant cinema's across the UK.
Prior to his time illustrating, Matt describes on his Facebook how he spent four years as a freelance music video director and editor, but in 2012, feeling creatively unfulfilled as a filmmaker, he reconnected with a lifetime passion for art and design through sketching, and subsequently a new career in illustration. Finding inspiration in an eclectic range of visual mediums – from Will Eisner comics to David Lynch movies, and many things in between – his work combines the organic feel of hand-drawn sketches with digital post-editing. Matt's diverse spectrum of interest manifests in a very particular style of graphic-visual storytelling, peppered with detail and nerdy references.
Matthew will be at No.6 Cinema this Friday from 6:15pm to host a small 'meet and greet' before the screening of Blade Runner. There will be more artwork on display plus Tea & Pencils freebies!
The posters are available to purchase via the Tea & Pencils website www.teaandpencils.com. Tea & Pencils can also be found on Twitter @teanpencils and on Facebook, where you can find more of Matthews work.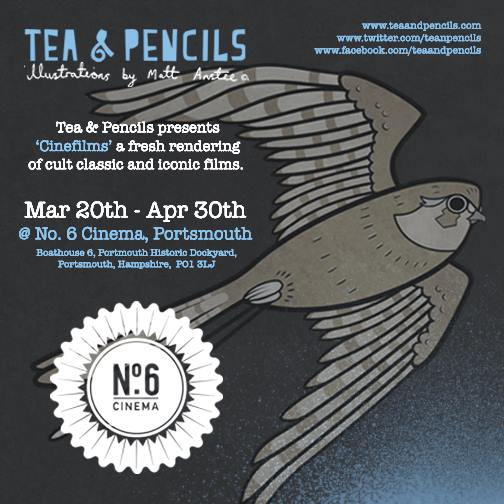 Exhibition runs until the 30th of April during No. 6 Cinema's opening hours (The box office opens one hour before each screening). Find out the No.6 Cinemas opening times by visiting www.no6cinema.co.uk.
---