Jennifer Burbridge is Made By Burbs, she has just created something that I think is nicer than anything I have seen Portsmouth City Council produce.
Jennifer created this map of Portsmouth as her submission for They Draw & Travel who recently held a competition to create a map of of the city where you grew up. Jennifer says to her "Portsmouth is generally known as place where nothing much happens, but to those that live there it's a treasure trove of things to do. So much so that I couldn't fit everything on".
I love what she's chosen to feature across the whole of the City. This doesn't just capture the typical Southsea landmarks. What I am really interested in seeing the the What's Not So Great About Portsmouth Map!
You can see a larger version of the map HERE. You can even get yourself a copy via the Etsy page HERE.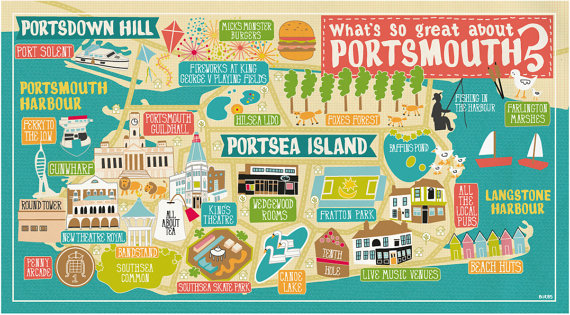 ---