Five years ago, at the start of 2009, we organised our very first bike ride for the Easter bank holiday. Strong Island had started in September so we were only a few months old but we thought it might be fun for some friends to get together and have a ride around Southsea. I say organised, really it was a chat over a pint, a poster on Strong Island and a time to meet up at the Bridge Tavern and a rough circular route taking in some of the sights. On the day itself we were blessed with dry weather and amazingly about 80 or so people made it out. We set out from The Camber, up through Old Portsmouth to the roundabout at the Grammar School and somehow ended up going around a few times…before setting off for the beach and a ride alongside the prom. At the end at Eastney we took a break and on the spur of the moment we all went on the beach for a photo. Both the roundabout and the beach photo became firm traditions for every ride that followed. We ended up making our way back along Albert Road and back to post ride drinks at Little Johnny Russells. Needless to say, there were a few bikes locked up outside for the afternoon.
With the success of this ride we organised a late summer ride that year too and from there it sort of grew and grew. In fact it grew so much we had to actually stop it being an official Strong Island event as we didn't have insurance, police support, etc. Saying that, I remember one ride two really nice cycle PCs kindly rode with us to keep everyone safe. Also over the years we had a wet day, hangovers from Southsea Fest ridden off and loads of genuine fun times with friends old and new. We even had an engagement proposal at the half way point! The best part of the bike rides was seeing bikes of all shapes and sizes and Portsmouth people young and old. We have had people from Essex travel down from it and even dogs hitch rides too. At it's height, we have had getting on for 300 people riding and we would like to say a huge thank you to everyone that came along on one or more of the rides over the years.
Sadly last year we were so run off our feet we never quite sorted out a 'quiet pint and bike ride' that people were welcome to join in but this year, it would be fun to do it once again. For now, below is a load of photos, video, posters and more from the last 5 years of the Strong Island Bike Rode, official or not.
We would love to know some of your memories of the rides, let us know with a comment here or on our Facebook page or Twitter.
P.S. Apologies to anyone we missed crediting on the photos below, so many amazing photos from the ride we wanted to share and may of missed some names over the years. Sorry about that.
Strong Island Roundabout from Tristan on Vimeo.
Filmed by Paul Stone
Strong Island Summer Bike Ride from Tristan on Vimeo.
Photos: Tristan Savage
Photos: Derek Thomas
Video: Saft and Boneless
Photos : Dan Tonkin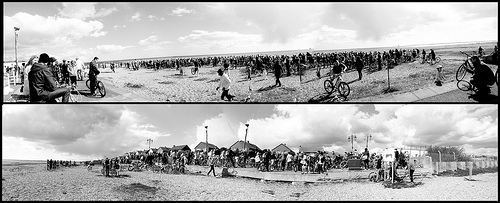 Photos : Claire Sambrook
Photos : George Crick
Photos : Marie S Jolley
>
Video: Chris Ballingall & Photos: Tristan Savage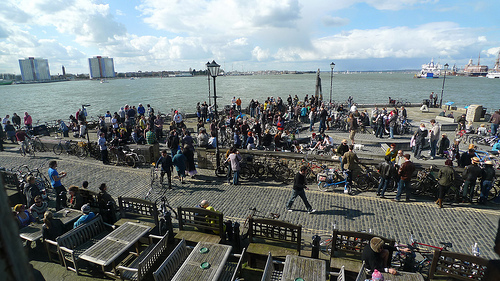 ---