Hopefully by now you will have seen that the Southsea Show is returning to Southsea Common on the 3rd and 4th August. After being scrapped in 2006 due to falling visitor numbers and rising costs the event organisers have gone back to basics and looking to recapture the atmosphere of Southsea Shows past and pay homage to it's six decade history.
The Tea Marquee seems to have the most original entertainment going on over the weekend. With tea and refreshments supplied in a comfortable seating area by from Advance Vending Services, alongside will be local cake makers, Southsea Scoops icecream tricycle, sweets from Hilbornes, there really is a lot going on in and around The Tea Marquee.
Inside, throughout the weekend, you'll find a selection of great solo music acts providing a whole range of musical genres for you to enjoy. From piano compositions, to singer/songwriters, to a set of Doris Day classics from Leigh Mary Stokes and music from DJ Will Chump. The term 'something for everyone' really does apply here.
Happy news for parents, kids and big kids like me is that there are also scheduled story times in The Tea Marquee. Stories by Roald Dahl and Maurice Sendak will be read by Stuart Olesker and Ness Woodward at 12pm and 3pm on both Saturday and Sunday.
At the other end of the Marquee, in a sectioned off kitchen area, you'll be able to enjoy baking demonstrations from Kate McBain (Sainsburys Farlington) and Sweet Creations', Niki Tomkinson, to name just two.
Outside the tent, you will find a Punch and Judy Show, facepainters, portrait artists and a whole host of other activites, so we recommend grabbing yourself an icecream from Southsea Scoops icecream tricycle whilst you're sat out in the hot (fingers crossed) Southsea sunshine.
Acoustic Stage Line Up
Saturday
12.00 – Storytime with Ness Woodward
13.00 – Alfie Ordinary secret set!
14.00 – Leigh Mary Stokes IS Doris Day
15.00 – Storytime with Ness Woodward
16.00 – Jerry Williams performing a selection of original songs and covers
17.00 – Music from Matt Jarvis
Sunday
11.30 – Music from Caz Batten
12.00 – Storytime with Stuart Olesker
13.00 – Piano compositions from Christian Smith
14.00 – Music from RaceCarHearts
15.00 – Storytime with Stuart Olesker
16.00 – Music from the boy i used to be
For information the festival check out their Facebook and Twitter page @SouthseaShow.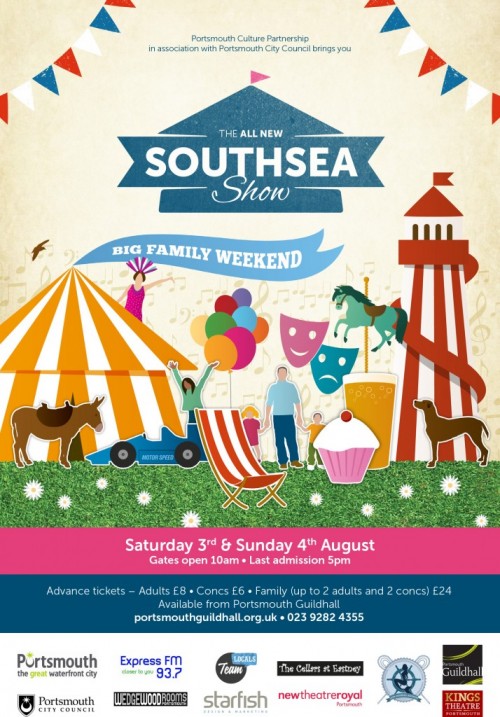 ---