I only recently discovered that Anglepoise have their office in Portsmouth and couldn't wait to pay them a visit. I met with Simon Terry the innovation director whose family started the company back in 1855. Herbert Terry & Son Ltd started to sell their own products in the 1920's, such as toast racks, bicycle saddles and spring clips. In the early 1930's the Anglepoise lamp was developed by George Carwardine using Terry's springs.
Anglepoise lamps are iconic and a design classic. They are also 100% British designed and manufactured which stands a true testament to the manufacturing industry in the UK. Simon informed me that one of the reasons they wanted to open their headquarters in Portsmouth was "because of the city's enthusiasm for creating things, its industrial heritage and a sense of being involved in where you are". There is also a strong connection to the location on the coast – water is in their blood with his family living in Cowes.
Watch this space for future collaborations with Strong Island – all very exciting especially since Anglepoise are very keen to establish links with the local creative community..
In the meantime we have a little competition to win the new Kenneth Grange book 'Making Britain Modern'. Kenneth Grange designer of products like the iconic black cab, the first parking meter, Kodak cameras, Kenwood kitchen products, Wilkinson razors, Platinum pens and the Anglepoise lamp, he was also a founding member of the Pentagram collective. To enter just email us a photograph of your Anglepoise lamp and show us the environment in which you use it – studio/office. We will then choose a winner and post it up along with all the entries. The closing date for entries is Friday Nov 11th. The Design Museum,  London is showing Kenneth's work until Oct 30th.
Below is a picture of the Giant Chandelier which has been designed for a next generation trade show called Qubique in Berlin. The prototype chandelier is an evolution of the Giant 1227 floor standing lamp. This was originally commissioned for the Roald Dahl Museum in the UK and is now shipped all over the world.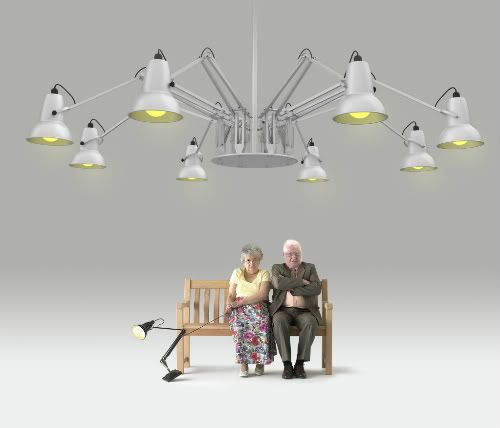 Images taken during the visit to their office base in Portsmouth. See more.
Image below from the Anglepoise archives.
---