THE BIGGEST AND BEST BLISSFIELDS YET!
upon my arrival it was just like calling round your friend's house because we were immediately greeted with welcoming faces
Considering the rain that had battered the south coast in the build up I was apprehensive to see what state the Blissfields site was going to be in. Now I'm hitting my mid 30's the prospect of a weekend where I am forced into wading through mud in my wellies doesn't fill me with delight. I needn't have worried because bar a few of the main tractor routes in and out of the site it looked great and full of lush green grass.
Blissfields 2016 was the year of the House Party and upon my arrival it was just like calling round your friend's because we were immediately greeted with welcoming faces of the festival's co-founder Paul Bliss and his Blissfields team.
After setting up camp I eagerly set out to see how the site had evolved and grown since last year. The site was clearly much bigger and I could see the familiar sights of the craft area, Blisscotheque bus, The Den and The Larch stages. Tucked in next to the Blisscotheque were our friends over at the Pie & Vinyl stall. Southsea's purveyors of all things pie and musical are now regulars at Blissfields and a host of other festivals up and down the UK.
Bearings now gained it was time for some music and first up was the delightful Frankie Forman in the Den. It was at this festival two years prior that I first saw Frankie when she played the smaller Larch stage. On this occasion the sultry singer songwriter left the band at home and performed with the aid of her MacBook using a loop to provide backing and melodies.
In the build up to Blissfields I was fortunate enough to speak with Holly from the Wyldest. This is a band whose origins were forged in Portsmouth. Shamefully I'd not taken the chance to see them perform live and I can confirm that I've been a fool and should have taken the chance a long time ago! The band showed resourcefulness after some technical difficulties and pulled off possibly my favourite performance of the weekend.
After a few rounds of Munchkin in the press tent the night was finished off with hip hop trio Too Many T's who performed to a packed out Den. After nearly falling asleep at the Hidden Hedge's cozy firepit I took myself to bed.
On Friday morning I awoke to the pitter patter of rain on my tent, so I waited it out until the rain had stopped and there were shoots of sunshine coming through the clouds. After Thursday's warm up this was when Blissfields really kicks off. Opening the Main Stage was Isaac Gracie. I would describe Isaac as the love child of James Bay and Ben Howard. I'm a big fan of both so that the singer songwriter was the perfect way to start the day.
By the early afternoon the sun was shining down on the site and this called for one thing, Cider! Fortunately the Old Mout Cider team were on hand offering free tasters and running competitions which required you to don pointy head gear to hook fruit that was hanging from the tent. Dressed like a gothic unicorn I managed to hook a passionfruit hoping it was one of the winning tickets but alas not.
A lot of Friday was spent eating, drinking and enjoying good company. The Pommarola Pizza Garden and Original Fry Up Material stalls were back and continue to produce great pizzas and burgers respectively. A new addition to the site where I spent most of my meal times was Savage & Bean's wood fired kitchen. Their pretzel buns were a nice touch! Like a traditional pretzel the bread has a salty brown crust and a tender texture which was perfect for sausage sandwiches!
Going back to the music, Friday evening was all about getting back to the Manor for Honne, Swim Deep and Everything Everything put on a great show.
Everyone loves a bit of a cocktail so we couldn't turn down the chance to try out the secret cocktail bar in the Orange Garden located behind the Blisscotheque. With our own mixologist on hand to make whatever we desired one of my group craved a coffee based cocktail and as someone who isn't a coffee drinker I thought I'd be adventurous and give it a go too. What a huge mistake, it was vile and I gave it away. At least I tried it though!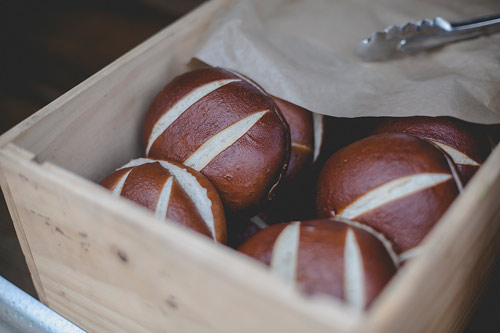 like a pretzel the bread has a salty brown crust and a tender texture which was perfect for sausage sandwiches!
Instead of a sensible trip back to the tent for a cuppa I ventured to the Hidden Hedge. The large white dome wasn't quite so hidden but who cares because it was so much fun inside. I was just in time to catch the end of Brighton based hip hop group Mok who were putting on a dynamic performance for their excitable crowd.
I did eventually get a cuppa before bed over in The Bay. The newest addition to the site look fantastic, by day you can enjoy it as an Amity esque paradise and by night the haven turns into a late night beach party. If I am being honest being tucked away behind a food tent didn't benefit the Bay and I feel being so out of sight meant that it lost out to the Hidden Hedge and the Blisscotheque late at night. Not to put a downer on it because it looked fantastic and I hope it returns with a more premier spot next year.
It's fair to say that despite there being no headache I was clearly suffering after a long day indulging myself with beer, cider, cocktails and rum! Thank god for the staff cafe situated behind the main stage. After a cup of tea and a bacon and sausage sandwich I began the road to recovery.
The sun was shining so the best way to spend the early afternoon was perched outside the Larch taking in the atmosphere and popping the occasional bubble that blew over from the Angel Gardens family area.
Saturday's line up on the Main Stage consisted of Blissfields royalty in the ever present Beans on Toast and Dub Pistols. As well as fledging vocal talent in Jones and Loyle Carner. Many acts have performed at Blissfields and gone onto become huge commercial successes, only this weekend Mumford and Sons have a sold out show at Hyde Park. Dizzee Rascal is certainly the biggest established performer that we've seen take the Blissfields stage and he did not disappoint! I'd be surprised if there has ever been such a big crowd at the Main Stage.
This was my fifth Blissfields festival and I would say the biggest and best one yet! We would like to say a massive thank you to the Blissfields team who yet again made us so welcome, it is hugely appreciated. Being a short 45 minute drive from Portsmouth I would encourage you to join us next year. There there are currently a limited number of super early bird discounted tickets available. You can get your hands on them from www.blissfields.co.uk.
You can also follow the Blissfields on Facebook, Instagram @Blissfields and Twitter @Blissfields.
📷 Tony Jupp | Savage and Bean
---