This Tuesday (22nd November) the New International Encounter Theatre Company will be performing their latest show, Tales from a Sea Journey.
Tales from a Sea Journey had its world premiere on 13 January as the opening performance of NIE´s 10th Anniversary Festival Vol.I in Dramatikkens Hus, Oslo.
In November 2009, NIE embarked on a transatlantic voyage on board a container ship, the GMA-CGM Fort St Louis from Le Havre in France to Guadeloupe in the West Indies. They were rocked by a North Atlantic storm, delayed by French dock strikes, woken in the night by the smell of the land and warmed by the Caribbean sun.
For the first time NIE have worked with a writer, the Icelandic novelist and poet Sjón, lyricist for many of Björk's best known tunes and winner of the Nordic Council's Literature Prize in 2005 for the novel Skugga-Baldur. Together with Sjón, NIE explored stories and myths from the sea, songs and shanties and letters from home. Blurring a fine line between fact and fiction, the show explores the pull and power of the sea from both a very epic and very personal perspective.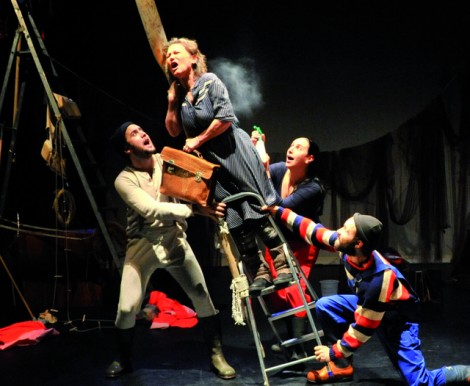 ---